THE GUPPY
This lure is one of my first custom creations and still one of the best sellers . Bottom line they work.
The original guppy jig is a 1\8oz body with a #4 jig hook. Tip with a waxworm or small minnow and your in business but like many of my other lifelike products this lure will catch fish with nothing added.
NOTE: ALL PRODUCTS CAN BE PAINTED TO SUIT YOUR NEEDS-- PICS ARE JUST SAMPLES!
25pc assortment $15
100 pc assortment $50
500pc dealer assortment $175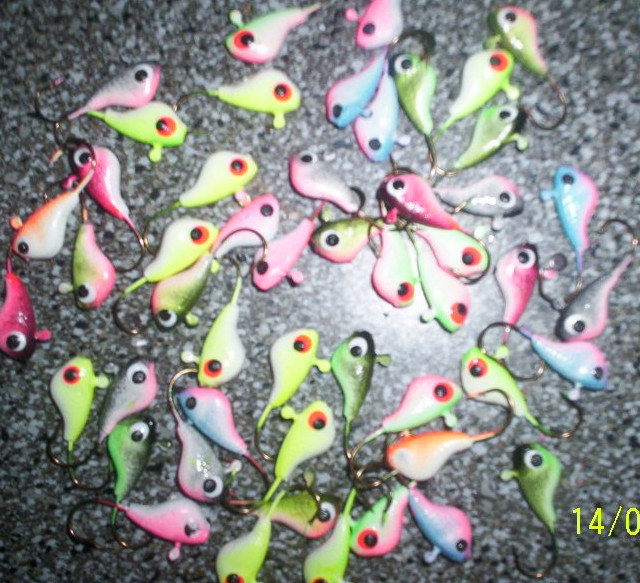 ---
GUPPY SPINNERS
This beauty is the best of the best. We cast a small swivel into the lure and add a small spinner blade to make fish go nuts!!! Compare prices to any simular product and the guppy wins hands down.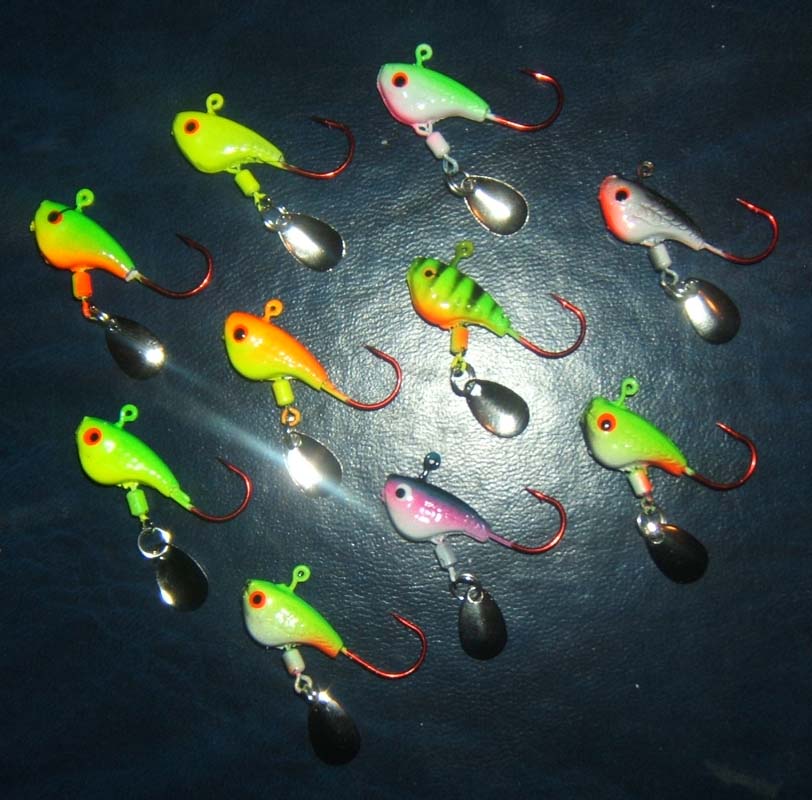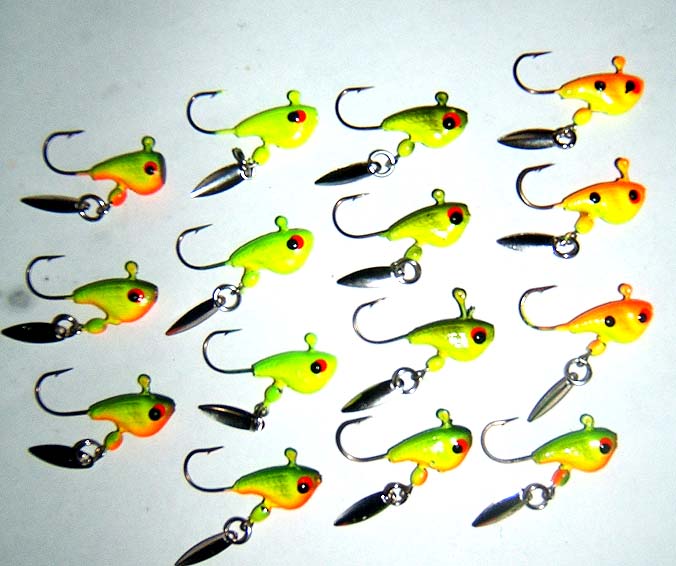 25 pc assortment $35
100 pc assortment $100
500 pc dealer mix $400


---
TRUE TO LIFE JIGS AND SPOONS
This line of lifelike lures are dynamite all alone or with aditions. The TTL jig is 3\16oz with a 1\0 hook. The tail of the fish doubles as a plastics holder and with the addition of a bead eye they are deadly on jumbo perch and double up as a go to walleye jig.
The TTL jigging spoon is one of the most realistic lifelike spoons you will jig or cast. I custom bend an arch in each one that gives these dynamite rocking action and allows them to be cast and retrieved just like a casting spoon. The smaller spoons weigh 3\16oz just like the jig and the magnum TTL weighs approximatly 1oz and new super colors are on the way.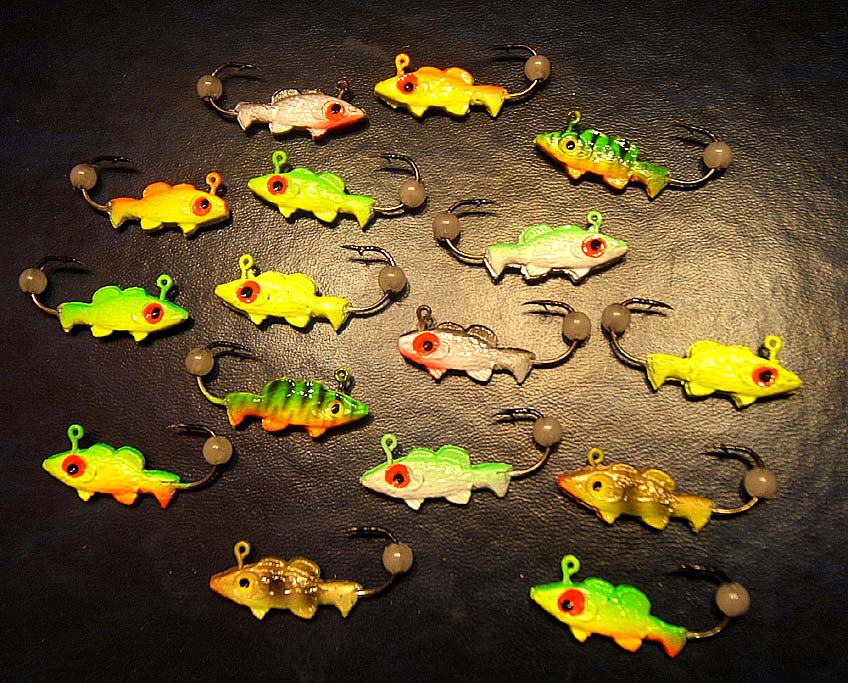 ---
TRUE TO LIFE FLIPPER
Awesome lifelike jigging spoon that is deadly ojn perch crappie and walleye. Weighs approximatly 3\8oz and is availiable with various size trebles to suit your needs. Use #10 for perch /crappie and #8-6-4 for walleye.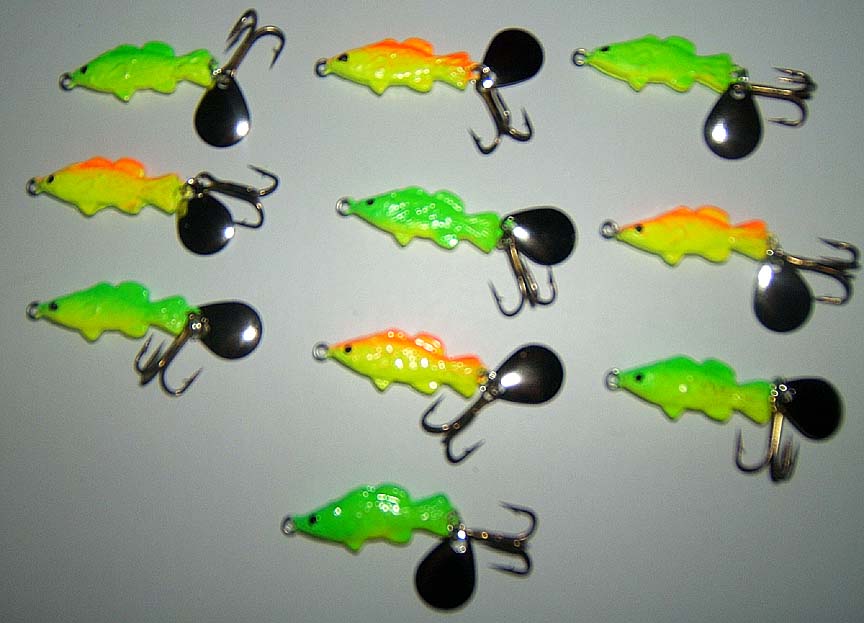 ---
True to Life Ultimate Rocker
This lifelike jigging/ casting spoon is a super multi purpose lure. Cast of solid lead and weighing approximatly 1oz these have a curved bend in the body for superior rocking action. The bend also allows these to be used as a casting spoon for pike and bass and the latest tip/ trick with these is trolling them with a harness attached for great lakes walleye action.